2022 Juneteenth Parade Honorees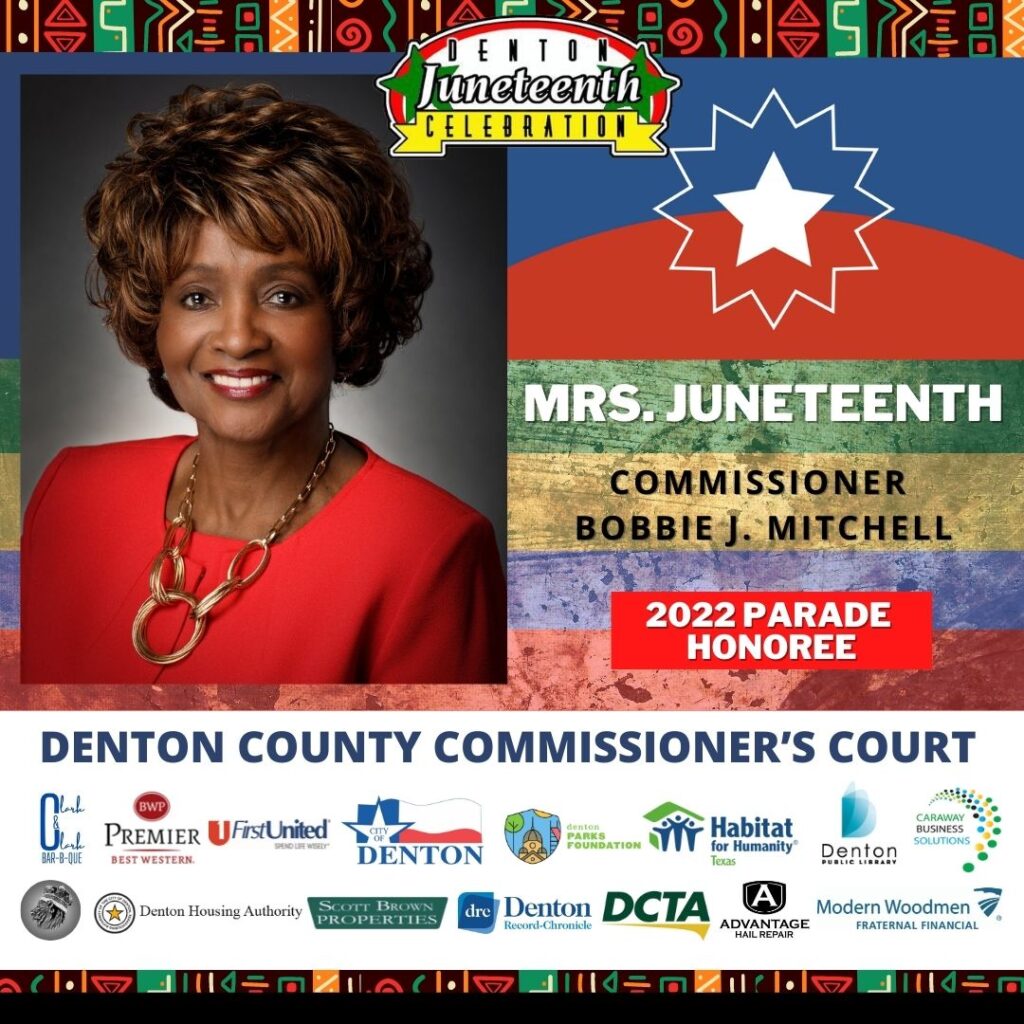 ---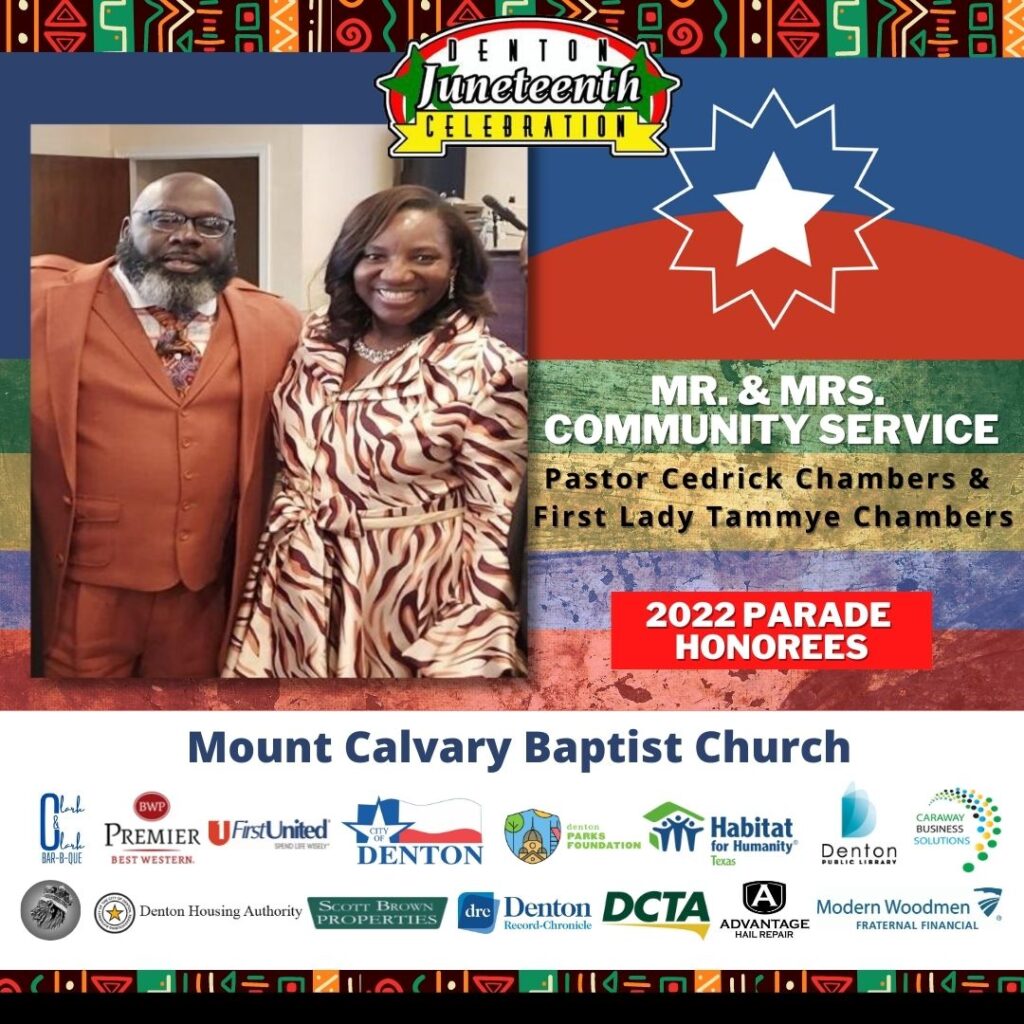 2022 DENTON JUNETEENTH SCHOLAR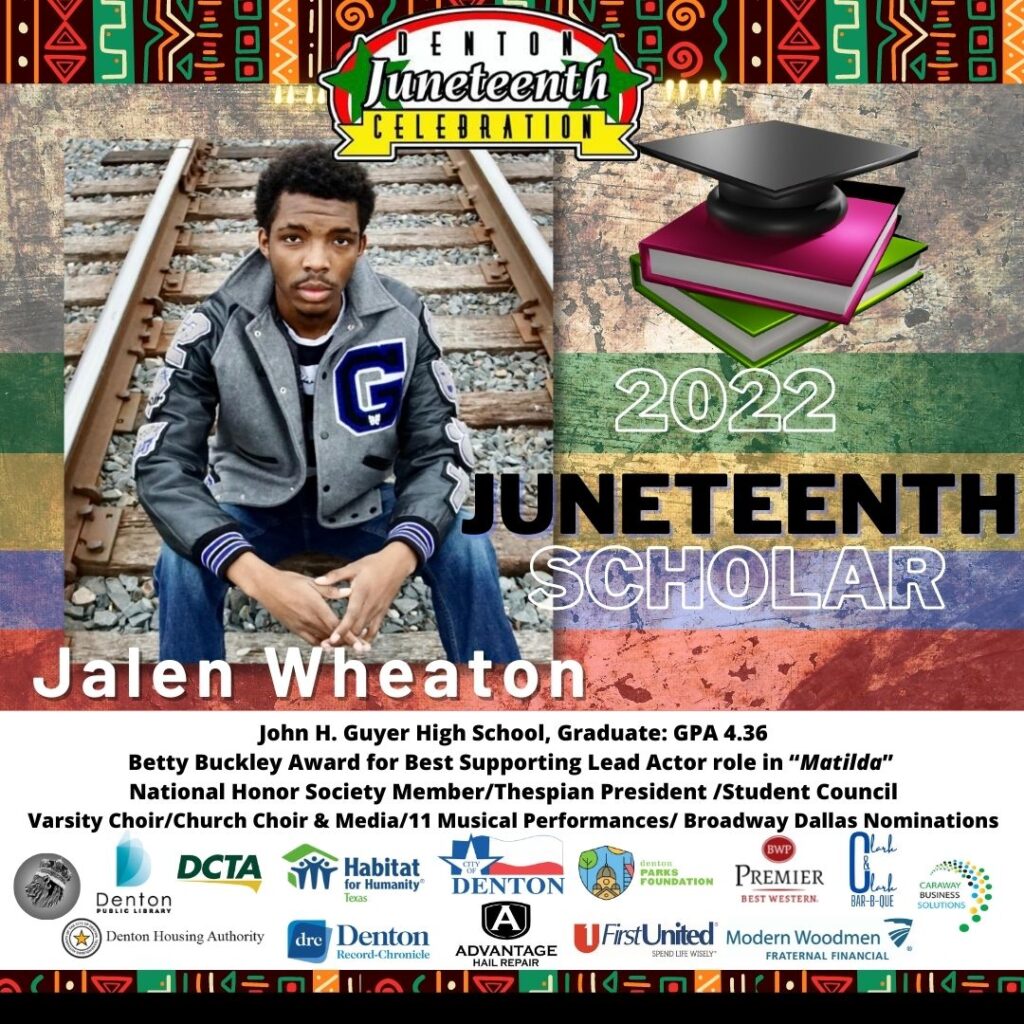 "I have been blessed beyond measure in so many ways. I have a village
of family and friends that support me spiritually, emotionally, mentally,
and encouraged me even when I did not believe in myself. I continue
to sing and create music to share with others. In addition to playing
the violin, I have enjoyed teaching myself to play the piano! I have
been accepted and will be attending Texas A&M Corpus Christi where I
will be majoring in Theatre Arts/Theatre Production. In my free time, I
enjoy hanging out with friends and being involved in community
activities where I have the opportunity to give back to others in need."
2022 DENTON JUNETEENTH HOMETOWN HEROES SPONSORED BY A BETTER WAY ENTERPRISE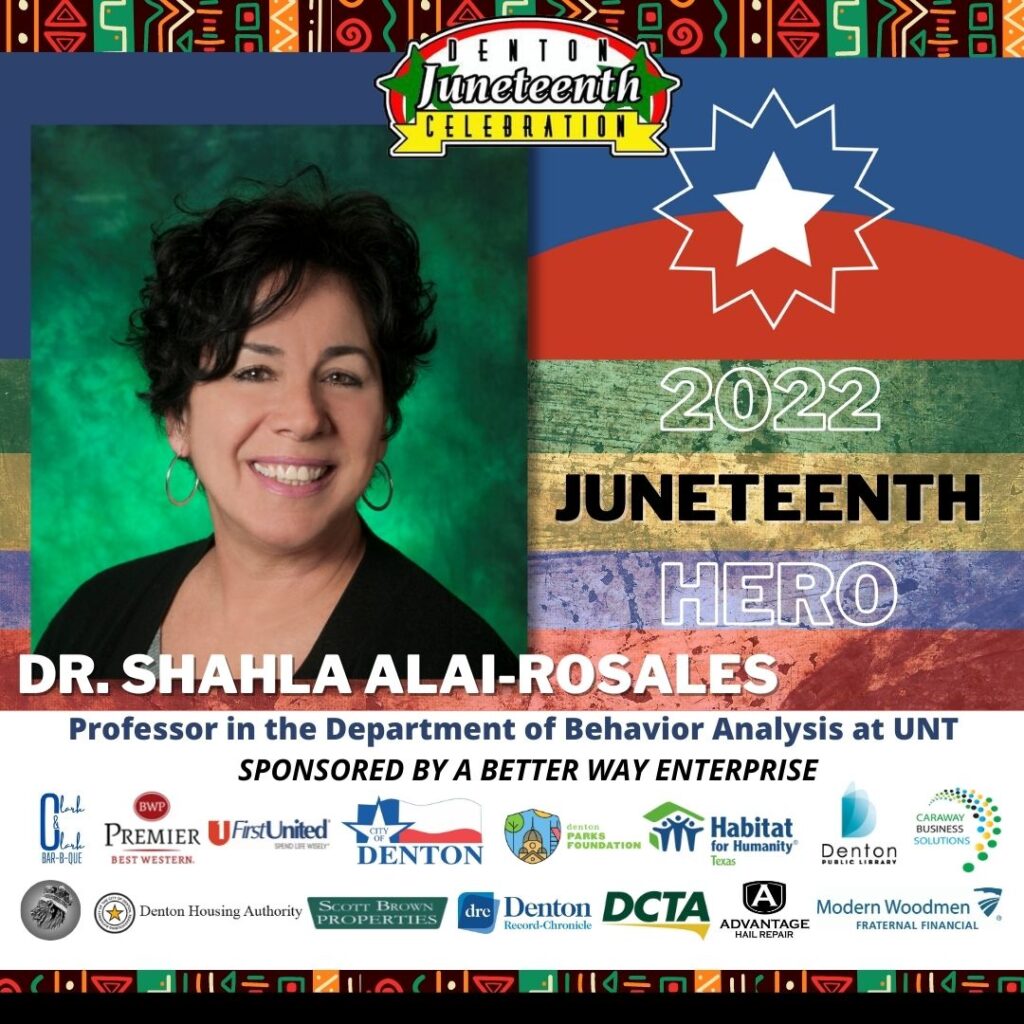 Hero: Dr. Shahla Alai-Rosales is an Associate Professor in the Department of Behavior Analysis at the University of North Texas. She has taught courses in Texas, Europe and the Middle East on a variety of topics, including ethics, autism intervention, and cultural diversity. Shahla has lived in Denton forever 25 years and has two children and one grandchild. In one way or another. Shahla has been privileged to be part of MLK across the years,in children's classes and activities, junior youth empowerment programs, birthday parties, quinceañeras, baby showers and more! Like many people, MLK has been a foundation of community life for Shahla! But her favorite activity of all is working with the MLK tutoring programs. She is grateful for all of God's blessings and the opportunity to serve her community.
---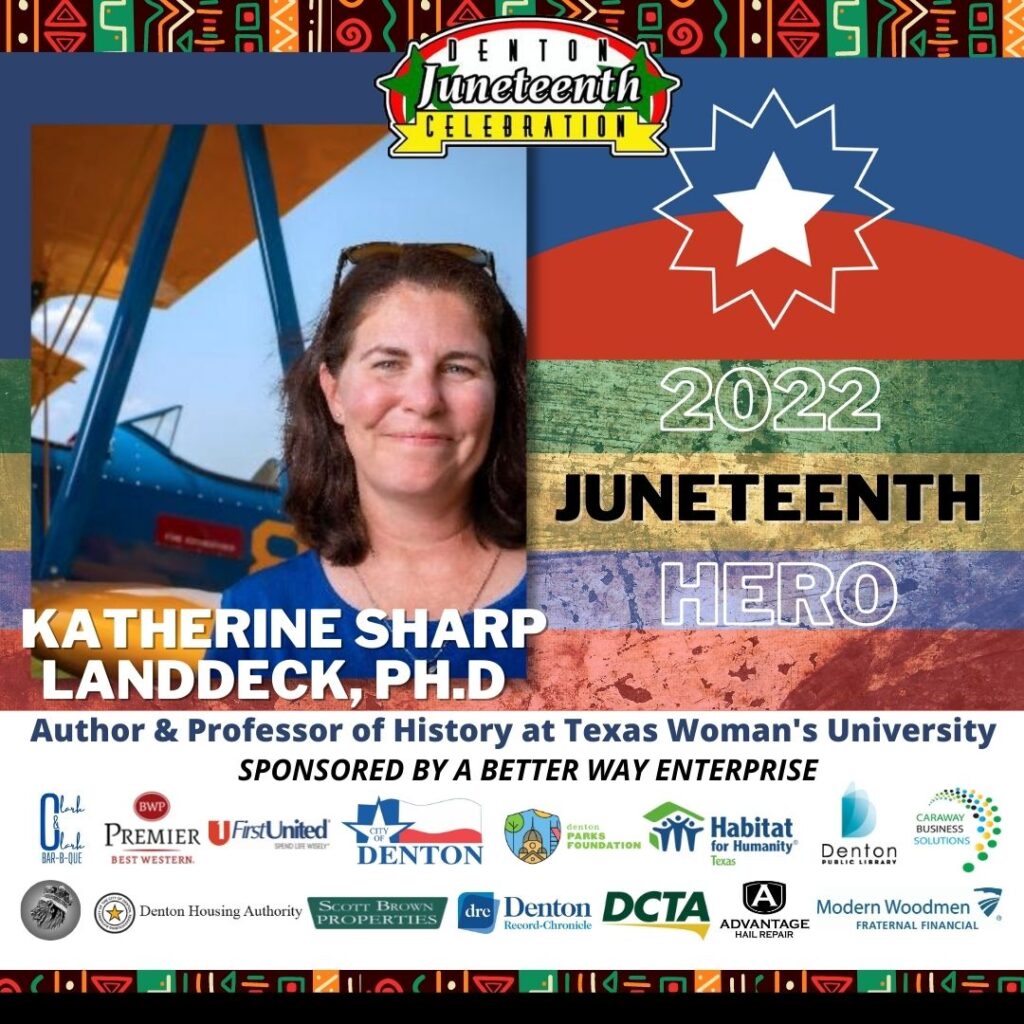 Hero: Katherine Sharp Landdeck, Ph.D., is author of the book The Women with Silver Wings: The Inspiring True Story of the Women Airforce Service Pilots of World War II. A Professor of History at Texas Woman's University, she teaches courses in the 20th Century and Public History. Landdeck challenges her students to ask hard questions about the past and its relationship to the present, to separate myth from fact, and to recognize their own value as historians. A Guggenheim Fellow at the Smithsonian National Air and Space Museum and a Normandy Scholar, she is a producer and consultant on several Emmy Award-winning documentaries and has appeared as an expert on NPR's "Morning Edition," PBS, the History Channel, and the television series "Mysteries of the Abandoned." Landdeck is working with her students on a deeper understanding of Denton's Quakertown as a part of local history and in a national context. She believes understanding our past is essential to shaping our future
---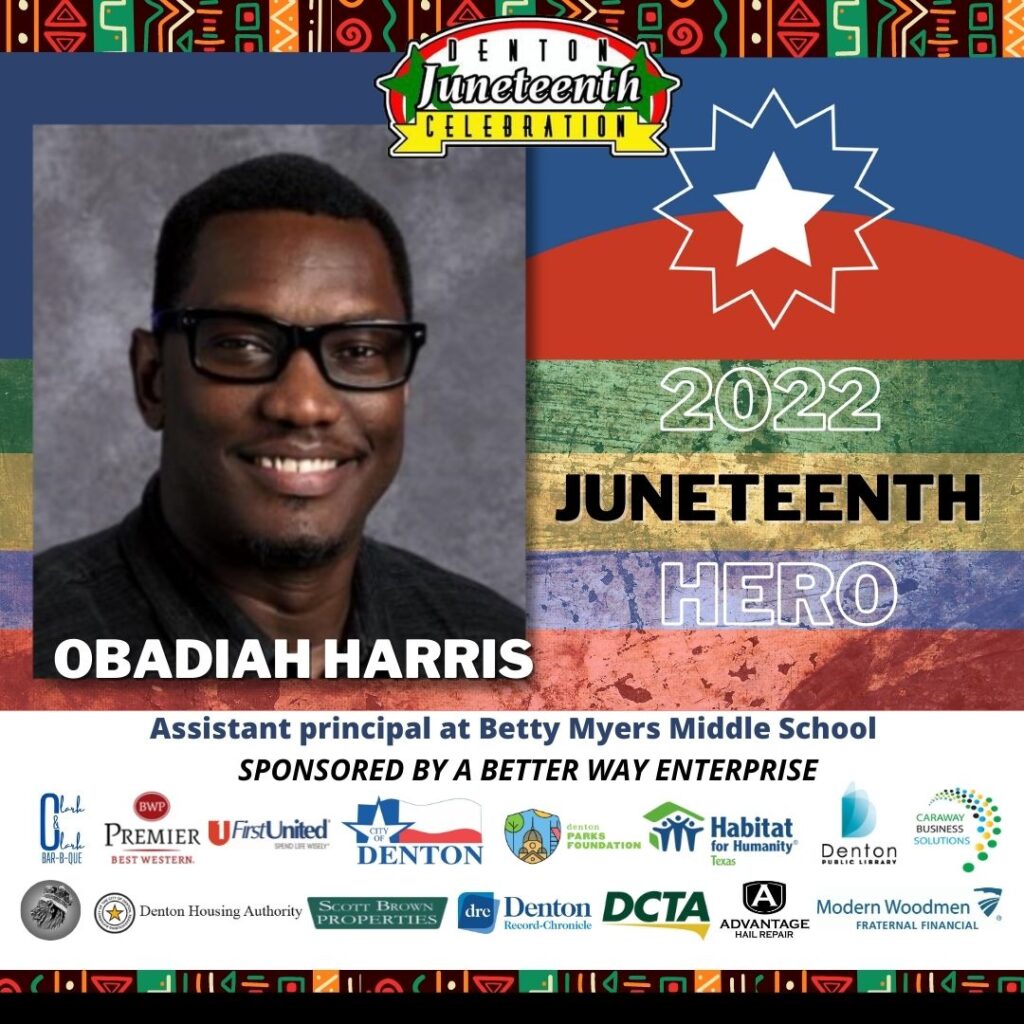 Obadiah Harris is the assistant principal at Betty Myers Middle School. He is loved by students and colleagues. His leadership role expands beyond the role of administration.
Encourage, support, discipline, lead…are just a few adjectives to describe Mr. Harris. For years, he served as a Coach for numerous sports and his love for athletics has not waivered. As a former athlete, he believes in instilling in youth a solid work ethic on and off the court. He teaches students to think before they speak…lead with integrity…perform well in the classroom so that it will show up on the bench. Therefore, Mr. Harris is imparting into youth skills that will make them better people and not just high performing athletes that can positively impact the future.
---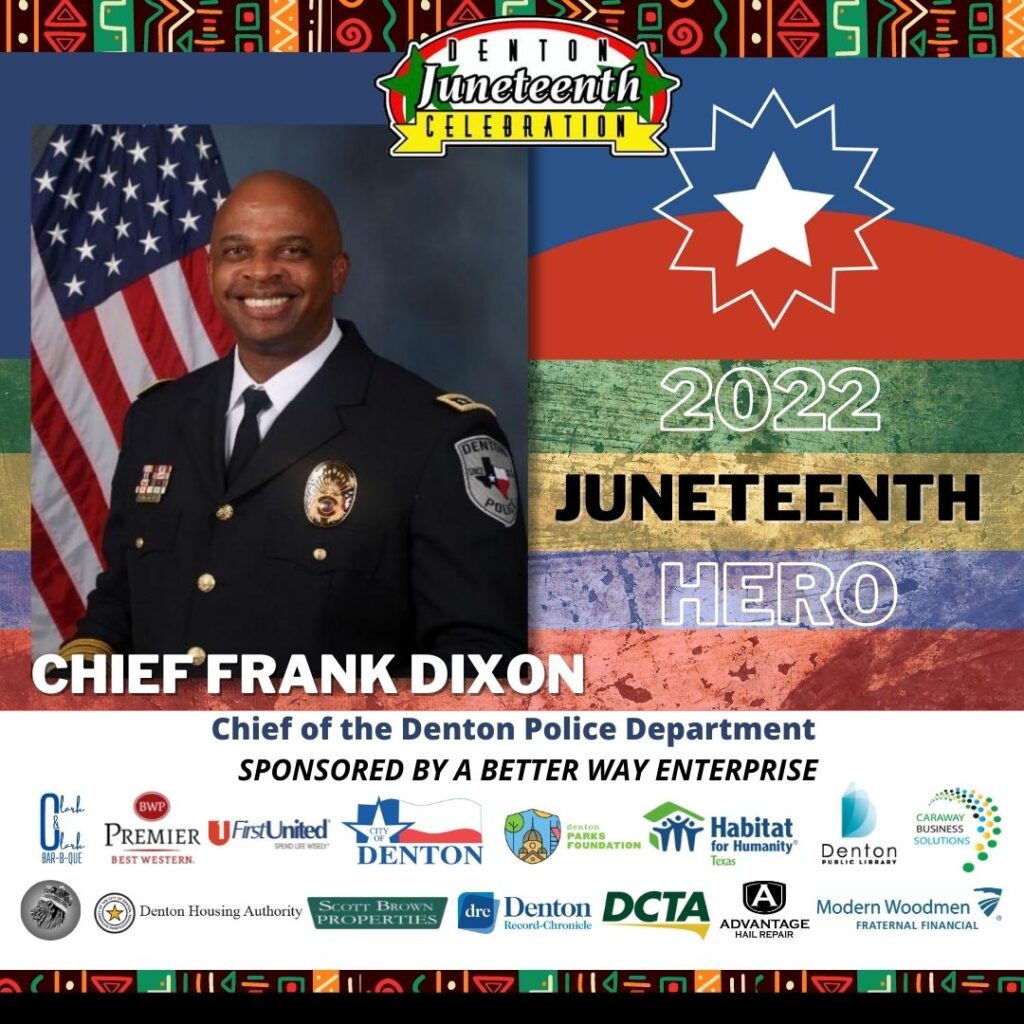 Frank Dixon was sworn in as the Chief of the Denton Police Department on October 15, 2018. Chief Dixon oversees a department of 205 authorized sworn personnel and 59 civilian employees with an annual budget of $35 million. Chief Dixon prioritizes transparent communication and community policing to build upon and improve the existing relationships within the Denton community.
Chief Dixon came to Denton with more than 23 years of law enforcement experience with the Austin Police Department, where he successfully worked his way up through the ranks to the position as Assistant Police Chief.
Since coming to the City of Denton, Chief Dixon has begun transformational change in the culture of the police department. This includes the implementation of revised General Orders (policies), a full time Homeless Outreach Team, and a new model of crisis response in a collaborative Crisis Intervention Response Team (CIRT) that pairs a civilian Licensed Clinical Social Worker with a plain clothed police officer. The unit is available 24/7 to respond to calls for service involving those in mental health crisis, as well as conduct limited follow-up with mental health consumers within the City of Denton.
Born in Fort Worth and raised as one of two children born to an Air Force Master Sergeant, Dixon grew up in Hawaii, Nebraska, South Carolina and Austin. Chief Dixon attended Lamar University, where he received a Bachelor of Science degree in Criminal Justice, and a Master of Science in Criminal Justice. He is a member of the Major Cities Chiefs Association and is a graduate of the Police Executive Leadership Institute, the Senior Management Institute for Police by the Police Executive Research Forum, APD's Leadership Command College, and the West Point Leadership Course. Chief Dixon is an active board member of the Salvation Army/Denton, United Way of Denton County, has been named a Paul Harris fellow by the Denton/Lake Cities Rotary Club, and is a Senior Fellow at the Meadows Mental Health Policy Institute.
Chief Dixon has always had a leadership philosophy of being present and engaged, mentoring and actively leading from the front.
---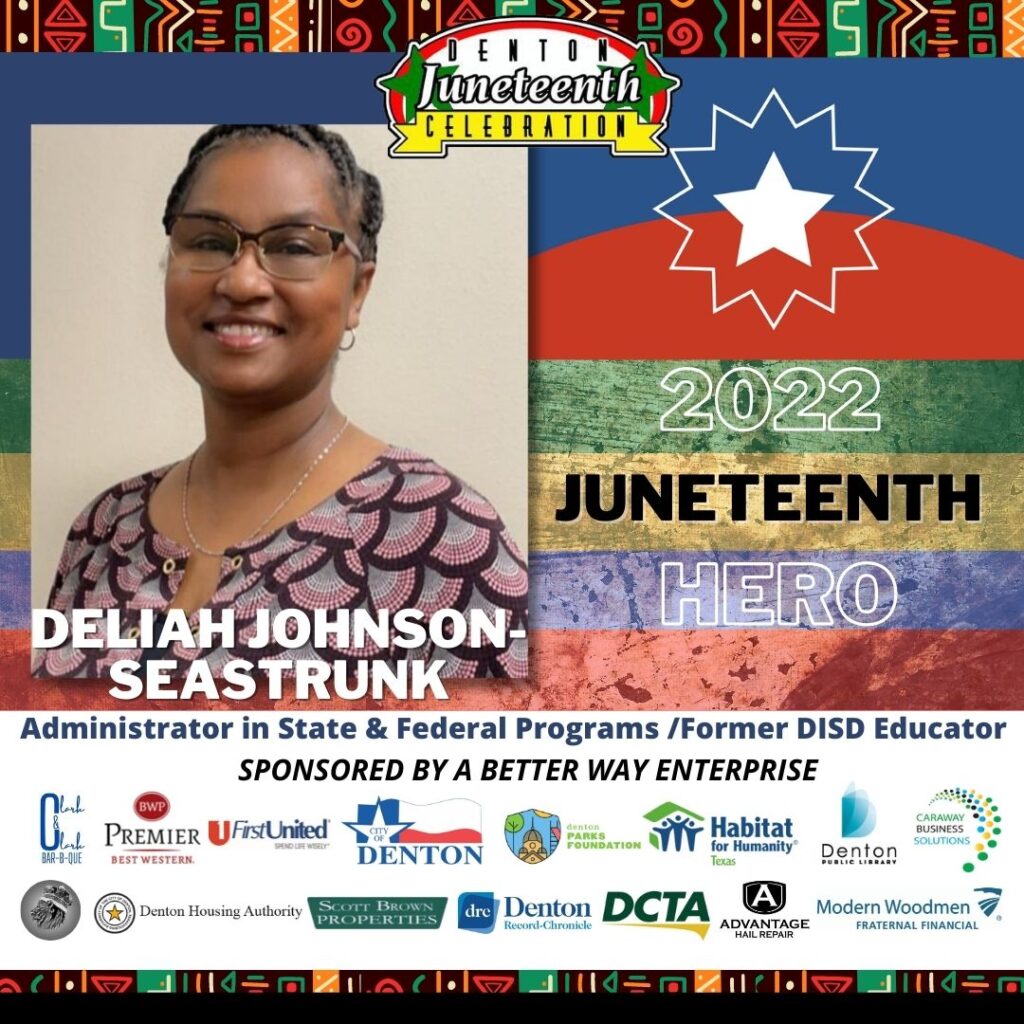 Deliah Johnson-Seastrunk is a longtime resident of Denton, Texas. She was born and raised in Pilot Point, Texas, a small town north of Denton and is the 10th out of 12 children. She is a mother of 4 children, 2 sons Jeremy and Micah Mack and 2 daughters Taylor and Mariah Seastrunk. She and her husband, Reginald Seastrunk (deceased) were guardian parents to a host of at-risk youth from the community in the past years.
Ms. Seastrunk is currently an Administrator in State & Federal Programs with Irving ISD. She was an educator in Denton ISD for 12 years where she taught middle school science for 10 years and spent 2 years as a reading and math interventionist for 3-5th graders. She graduated high school in Pilot Point, TX; before obtaining her Bachelor of Administration degree from Texas Women's University. She received her Master's degree in Educational Leadership at Texas Women's University and is currently working on her second Master's in School Counseling at the University of North Texas. Ms. Seastrunk loves singing and enjoys supporting local ministries in any way she can. She is a member of Antioch Christian Fellowship in Corinth, TX. She has had the opportunity to be a participant in local community choirs, such as Total Witness, Federation Choir, and most recently Laurie's Joy Choir which supports the Denton Friends of the Family organization.
Her passion is and always has been to serve those in need by helping anyway she can. In honor of her husband, Coach Reginald Seastrunk, she has continued to support the community by giving back through scholarships. Reginald Seastrunk Foundation has given scholarships through the NAACP organization and Denton League of United Latin American Citizens Council#4366 (LULAC) also through Denton LULAC. Students from all three of Denton's ISD high schools have been in receipt of these monetary gifts.
Doing the will of God from the heart, doing service, as to the Lord and not to men. (Eph 6:6-7)
---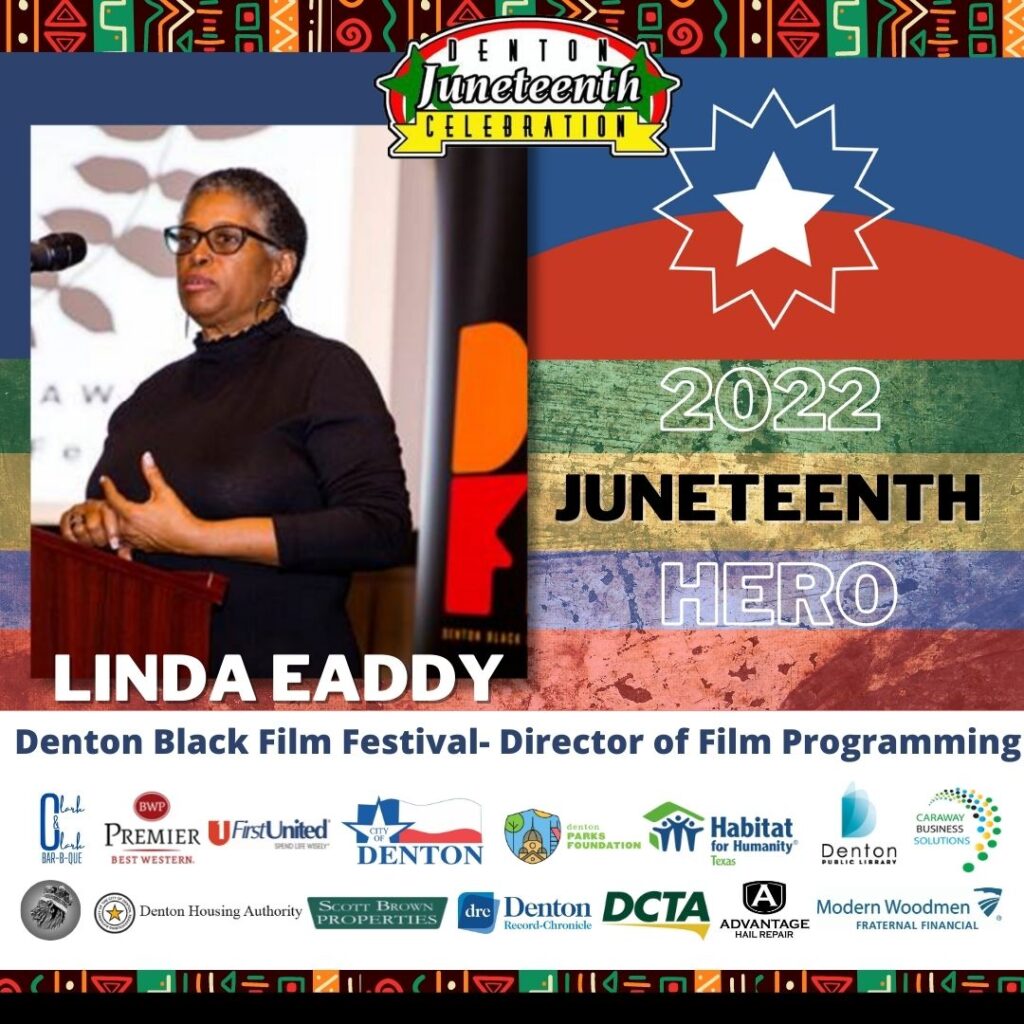 Hero: Linda Eaddy
BIO: Born in Dallas, Texas –   Lived in Lubbock Texas for 1st grade then moved to San Antonio. After graduation from Highlands High School attended North Texas State University (Now UNT). Met husband in Graduate school and married in 1981. Two children and four grandchildren later, Linda loves being a "Gigi" and giving back to her community.
EDUCATION: Bachelor of Arts – Psychology, University of North Texas- Denton, TX. & MBA- Personnel and Industrial Relations, University of North Texas, Denton
PROFESSIONAL CAREER: Delta Air Lines   1972-2003 (Retired)
Flight Attendant   1972-1978 and 1989-2003
In-Flight Service Supervisor   1978-1989
Co-Owner- Stride Rite Children's Shoe Store – Denton, Texas    1989-1992
COMMUNITY VOLUNTEER WORK:
Denton Black Film Festival- Director of Film Programming 2016-Current
Dir. Of Operations/Content Committee Member 2014-2016
University of North Texas – College of Arts and Sciences Advisory Board – Fall, 2016- Current
Greater Denton Arts Council- Board President 2016- 2020
VP of Membership 2015-2016, Member 2014- 2020
Jack and Jill of America- North Texas Chapter- Treasurer/Member 1998-2004
Denton Public School Foundation Board of Directors 2000-2001
Sam Houston PTA Volunteer & Organizer of Reading Program Store 1995-199 
---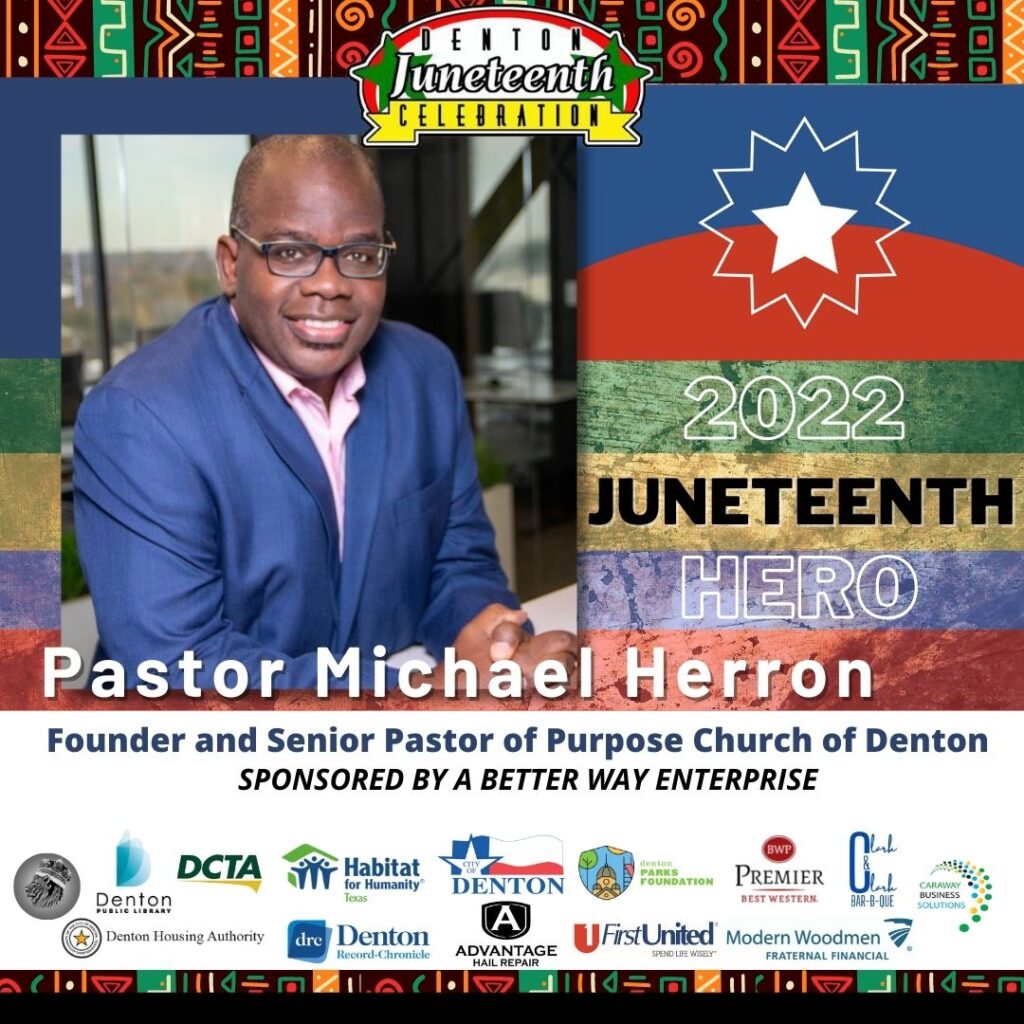 Pastor Michael Herron is the founder and Senior Pastor of Purpose Church of Denton! Pastor Mike started Purpose Church over 9 years ago because of the desire to see people walk out their full purpose in God in their lives. His practical teaching style allows for others to grasp an understanding of God's word as he makes it plain and simple to all those who hear it. 
Pastor Mike served for 7 years as Youth Pastor under the Apostolic covering of Apostle Michael Horne and the Believers Church International family before he felt the unction of the Lord calling him back to Denton to begin a church of his own.
Pastor Mike is married to his wonderful wife of 28+ years Pastor Mal Herron as they both work in the ministry as one. They have 3 children and 3 beautiful grandchildren that they love to dote on and spoil whenever they get the chance.
Pastor Mike has his MBA and BSBM, Bachelor of Science in Business Management from the University of Phoenix. He also has his Certificate of completion from Faith Bible Institute in Monroe Louisiana.
---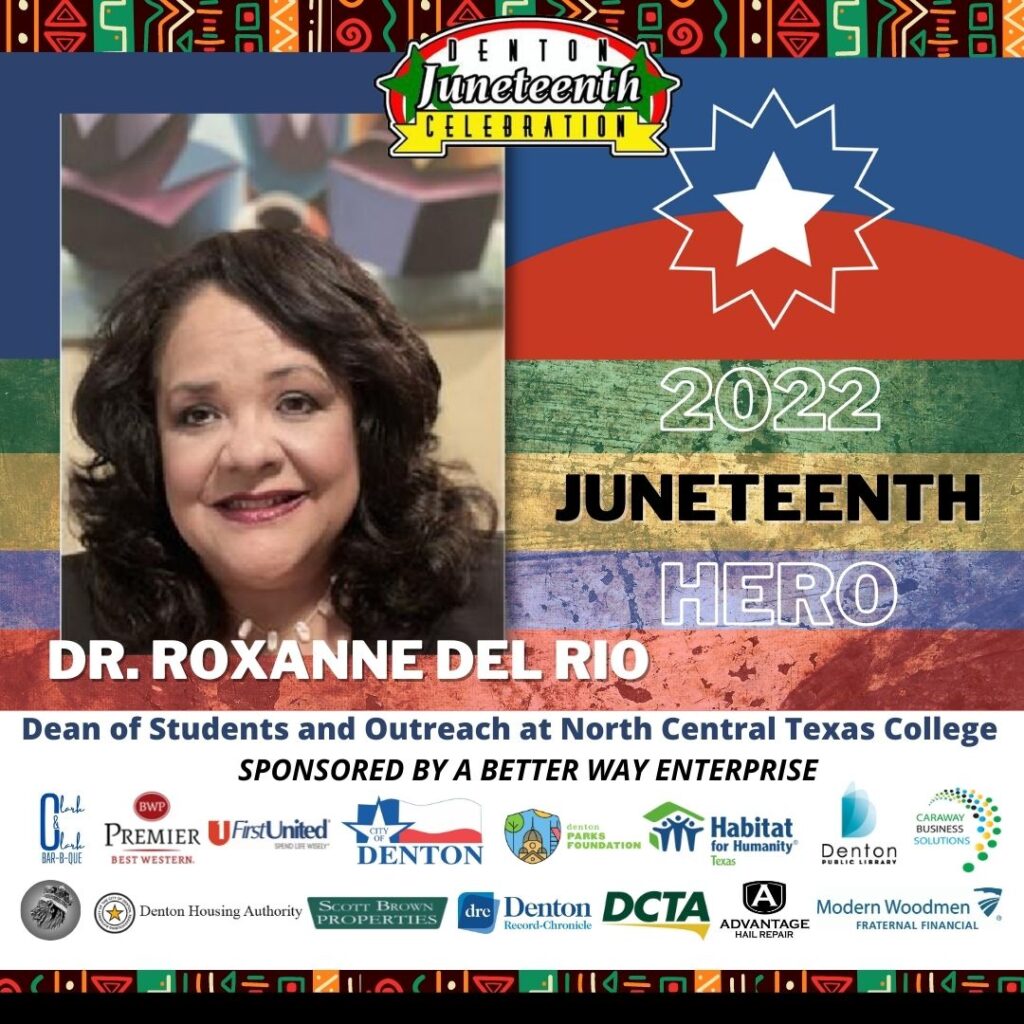 Dr. Roxanne Del Rio currently is serving as Dean of Students and Outreach at North Central Texas College (NCTC). She has been with the NCTC for over 14 years. Dr. Del Rio is from Corpus Christi, Texas and attended the University of North Texas where she earned a Master of Public Administration and a Ph.D. in Higher Education Administration.  
Dr. Del Rio has traveled worldwide throughout Latin America, Middle East, Europe and Asia establishing partnerships with colleges and universities abroad.
Her philosophy centers on the establishment of a student focused administration through a persistent focus on Servant Leadership. Also, her passion is working with students.
I also serve as a community member and Board Member to non-profit agencies in Denton County:
Current Board Position and Membership Committees and Coalitions:
Board Member – C7 Human Trafficking Coalition
Board Member – Denton Together Coalition
Board Member – Communities In School of North Texas
Board Member – Serve Denton
Co – Chair of the Workforce Success Leadership Team – United Way Denton County
Member of the DENTON COUNTY BEHAVIORAL HEALTH LEADERSHIP TEAM – United Way
Member of the Denton County Homelessness Coalition
Board Member for C7 Human Trafficking Coalition
Board Member Denton ISD Foundation Board
---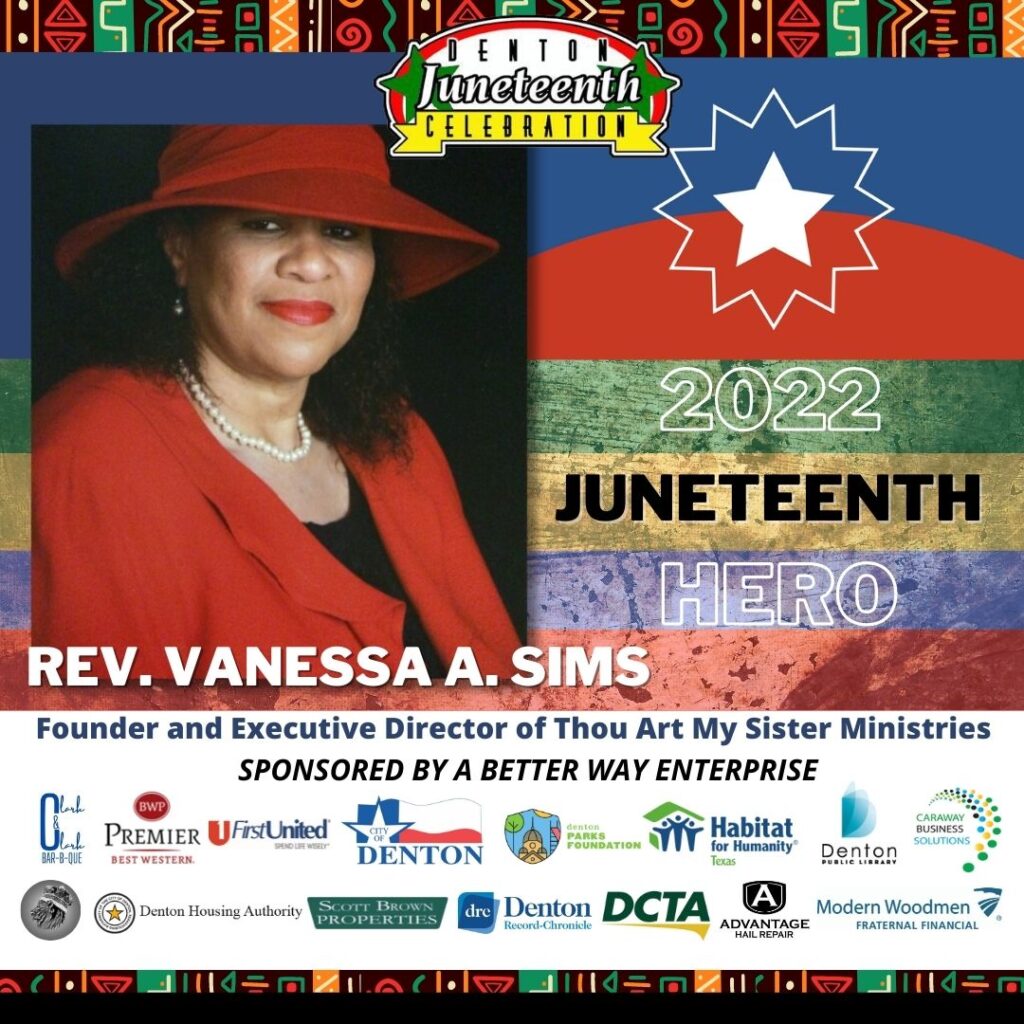 Rev. Vanessa Sims has been in servant ministry for over 41 years. For most of her ministry, she served alongside her husband Rev. Anthony L. Sims.  She currently serves as an ordained minister with the Association of International Gospel Assemblies. She is the founder and Executive Director of Thou Art My Sister Ministries.  Thou Art My Sister Ministries have a mission-chartered under the Association of International Gospel Assemblies and is a 501 (c)(3) nonprofit organization.  
Vanessa inspires others by sharing her unique story of God's amazing grace and unwavering love. During her faith journey, Vanessa earned a Master of Theological Studies and a Certificate of Pastoral Care from Southern Methodist University-Perkins School of Theology, a Certificate of Theological Studies from Texas Christian University-Brite Divinity School, a Bachelor of Science from Tarleton State University, and an Associates of Art from Weatherford College.
She recently served as a Moderator at the 2022 Dallas Literary Festival, was a 2021 Service to Mankind Honoree recipient, and participated in SMU's 2020 Perkins Center for Preaching Excellence – What's A Preacher to Do During This Pandemic of Racism series.
Other recent achievements include the 2020 release of her song entitled, "Don't Take My Breath Away" and her 2018 book of poetry entitled, "Thoughts from The Depths of My Heart." In addition, one of her poems was published in the 2014-2015 Perkins School of Theology Student Journal. Another one her poem was published in Dr. Jeanne Stevenson-Moessner's book entitled, "Overture to Practical Theology – The Music of Religious Inquiry."
Vanessa's passion for helping others led her to organize community forums, programs, and training programs such as "HIV/AIDS – The Silent Killer in African American Families, Reading Revolution, Life Skills for Daily Living, Christians Uniting to Heal Our City, and Leadership-Building from the Past by Envisioning a Better Future.
Vanessa credits her study of "Practical Theology" at the University of Cambridge, Wesley House, Cambridge, England, for her simple and practical approach to ministry, social justice, community service, and advocacy.
She uses her combined experience as a pastor's wife, Adolescent Substance Abuse Counselor, Probation Officer, Drug Court Program Coordinator, Economic Development Director, Realtor, as a consultant to the Tarrant County Juvenile Drug Court, the Tarrant County Domestic Violence Court and as a Tour Coordinator for the First Lady of the Republic of Liberia to help transform lives of people God places in her path.
One of her favorite biblical text is "Nothing can separate you form the love of God." (Romans 8:39) With this text in mind, Vanessa allows the Holy Spirit to lead and guide her in using her spiritual gifts to encourage, inspire, teach, preach, serve, and uplift others. Most importantly, she enjoys sharing the good news of God's unlimited amazing grace, love, and power. She also enjoys advocating for others, reading, writing poetry, fashion, home decorating, landscaping, event planning, and gaining knowledge from senior citizens.