Check out our list of events for this year.
DJ Spin-Off Who will take the crown? A few DJ's. will spin playlist for a given amount time and battle round to round in their original artistic fashion. The winner will receive a cash prize.
Storytime Denton Public Library will provide a segment featuring appropriate African American history books targeting children.

Hometown Heroes  Event honoring Denton citizens who make key differences in our community sponsored in part by A Better Way Enterprise and Modern Woodmen Financial
Juneteenth Parade See Juneteenth University for more details
Vendors All vendors may advertise in the virtual program book and on the celebration website. Each vendor must create his/her own video to be aired before, during, and after the celebration. Advertisements maybe purchased for the Juneteenth Program book. See site below for details.
Coloring Contest Youth are asked to color a photo of a famous African American and submit the entry for the Coloring Contest.
T-shirt Design Contest Entry will be acknowledged on the website. Winner will be asked to submit photo and no more than a 3-line description of design.
Annual Program Book Book will be an electronic presentation promoted on various media platforms.
Sponsorship Opportunity for individuals, organizations and corporations to celebrate by giving. For tax purposes, payments are made to Denton Parks Foundation.
Gospel Night artist will perform live at Fred Moore Park on Friday June 17th
Juneteenth Live is a prerecorded event to ensure everyone has an opportunity to Celebrate. Enjoy poets, dancers, and featured performers in the venue of your choice.
Saturday Night Concert Artist and guest from various genres of expression will perform live on Saturday evening
Basketball A 3 on 3 basketball Tournament hosted by Stay Ready. 4 divisions boys and girls. Elementary High School & Adults. Prizes Awarded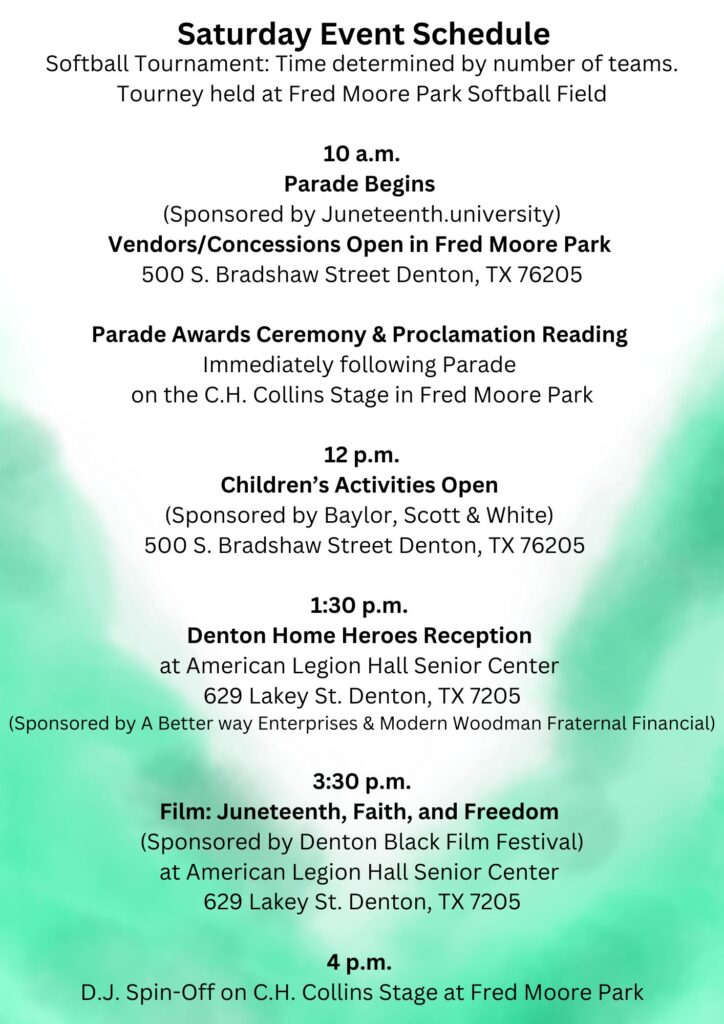 ---